This post is also available in: Japanese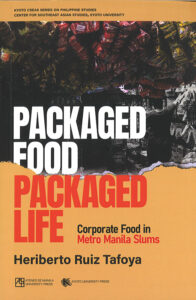 Packaged Food, Packaged Life: Corporate Food in Metro Manila Slums
Heriberto Ruiz Tafoya.
Published in May, 2023.
 Kyoto University Press & Ateneo de Manila University Press.
The aim of the "Kyoto CSEAS-Ateneo de Manila University Press Series on Philippine Studies" is to promote and make available scholarly works on the Philippines from a multi and inter-disciplinary perspective. The series editors comprise of Japan and Philippine-based scholars, who seek to cultivate works that emphasize how Philippine case studies can enrich the field of Southeast Asian area studies more broadly.
■Kyoto University Press:
Yoshida-South Campus, Kyoto University
69 Yoshida-Konoe-cho, Sakyo-ku, Kyoto 606-8315, Japan
Tel: +81-75-761-6182  Fax: +81-75-761-6190
https://www.kyoto-up.or.jp/series.php?id=152
■Ateneo de Manila University Press:
Ground floor, Bellarmine Hall, Loyola Heights, Quezon City,
P.O. Box 154, 1099 Manila, Philippines
Tel: (632) 8426-5984  Fax: (632) 8426-5909
http://www.ateneo.edu/ateneopress/