This post is also available in: Japanese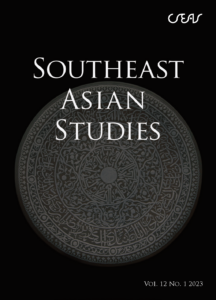 The Center for Southeast Asian Studies (CSEAS), Kyoto University is pleased to announce the publication of Vol.12, No.1 of Southeast Asian Studies.
Contents
≪Special Focus≫
Environment and Public Welfare in the Creation and Development of Economic Infrastructure in Southeast Asia, c. 1800–1930: Currency Supply, Forest Control, and Rail Transport
Guest Editor: Ota Atsushi
Ota Atsushi
Introduction
Taga Yoshihiro
The Nguyễn Dynasty's Government Purchase System in the First Half of the Nineteenth Century: Multiple Functions and Economic Rationality
Mizuno Kosuke; Hayati Sari Hasibuan; Okamoto Masaaki;Farha Widya Asrofani
Creation of the State Forest System and Its Hostility to Local People in Colonial Java, Indonesia
Kakizaki Ichiro
Why Did the Railways Fail to Monopolize Transport? The Limits of Rail Transport in Thailand and Burma before World War II
≪Articles≫
Kuno Genta
Geography of Insecurity in Contemporary Jakarta: Cross-Class Spread of Residential Street Barriers
Hatib Abdul Kadir
From Pengusaha (Businessperson) to Penguasa (Ruler): Migrant Traders and the Politics of Hospitality in Indonesia
Nguyen Quang Phuc
Farmers' Reactions to Compulsory Land Acquisition for Urbanization in Central Vietnam
≪Book Reviews≫
Ooi Keat Gin
Soda Naoki. Conceptualizing the Malay World: Colonialism and Pan-Malay Identity in Malaya.
William N. Holden
John Scott Reed. The US Volunteers in the Southern Philippines: Counterinsurgency, Pacification, and Collaboration, 1899–1901.
Thiti Jamkajornkeiat
Takashi Shiraishi. The Phantom World of Digul: Policing as Politics in Colonial Indonesia, 1926–1941.
Adele Webb
Vicente L. Rafael. The Sovereign Trickster: Death and Laughter in the Age of Duterte.
Fujihara Sadao
Michael Falser. Angkor Wat: A Transcultural History of Heritage, Volume
1 Angkor in France. From Plaster Casts to Exhibition Pavilions
Angkor Wat: A Transcultural History of Heritage, Volume 2 Angkor in
Cambodia. From Jungle Find to Global Icon.