This post is also available in: Japanese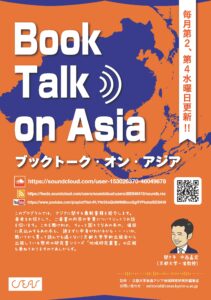 About the program
The Center for Southeast Asian Studies (CSEAS) at Kyoto University provides a semimonthly audio program introducing new books on Asia (in Japanese), "Book Talk on Asia," through SoundCloud and YouTube.
In this audio program, our interviewer Associate Professor Yoshihiro NAKANISHI talks with authors about their books including about authors, and stories behind their books.
Toru OHTANI, "Chinese God of Death", SEIKYUSHA, 2023.