This post is also available in: Japanese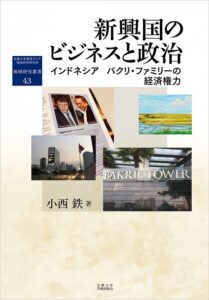 43. Business and Politics in an Emerging State: The Economic Power of the Bakrie Family in Indonesia. 
KONISHI, Tetsu
March 2021
Kyoto University Press
Description
Most large Indonesian businesses have secured their significant interests through the founding family's individual connections with political power and continue to be held by the founder's family today. However, the 1997-98 Asian Economic Crisis, Indonesia's subsequent democratization and reforms, and the 2008 Global Financial Crisis have all threatened to dismantle such families' domination. This book is the story of how one of Indonesia's most powerful business families has maintained its economic power and survived despite the risks that the country's "era of emergence" posed during the 2000s.  As such, it illustrates the dynamics of interaction among businesses and politics in an emerging state.