This post is also available in: Japanese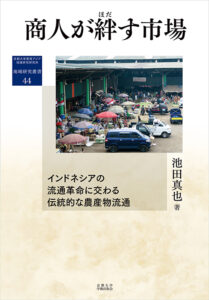 44. Traders Reinvent Markets: The Evolution of Traditional Agricultural Marketing amid the Supermarket Revolution in Indonesia. 
IKEDA, Shinya
March 2022
Kyoto University Press
Description
A rapid transformation in the retail marketing of agricultural products propelled by supermarkets is creating a "supermarket revolution" in Indonesia, particularly in Java. Recent studies have illuminated the tremendous paradigm shifts occurring in both up- and down-stream agricultural marketing. Linking smallholder farmers to this emerging agricultural value chain remains controversial because agricultural production will deteriorate if smallholder farmers who rely on traditional indigenous marketing cannot adapt. Offering an alternative appreciation of this economic phenomenon, this book examines the revival of an entrepreneurship embedded in the networks of smallholder farmers and traders. Based on the author's field survey and interviews conducted during 2008-2019, it combines a qualitative approach and quantitative economic analysis of collected data through the application of econometric methods. By refusing to embrace the ideology that a total restructuring of traditional agricultural marketing is required, the refreshing approach of this book will interest marketing researchers, Southeast Asia specialists, and development  practitioners alike.