This post is also available in: Japanese

25. Grass-root Globalization:
Cultural Practice and Life Strategy at a World Heritage Village in Northern Luzon.
SHIMIZU, Hiromu.
Published in January, 2013.
Kyoto University Press.
Description
Based on repeated field works every year from 1998 to 2010 in and around Hapao village surrounded by magnificent rice-terraces, this ethnography describes and analyzes how villagers have confronted, experienced, negotiated and actively and aggressively taken their chances in recent waves of globalization.
Effect and impact of globalization is explicit in the village as in the following points; 1) More than 150 villagers among 1,750 residents, mainly women as domestic helpers and caregivers, have been abroad to 27 countries mainly in Asia but also in Middle East, Europe, and north America.; 2) A villagers' organization to implement grassroots reforestation project, in the name of "Ifugao Global Forest City Movement" (IGFCM) in close cooperation with Japanese small NGO (IKGS) in Hyogo Prefecture gained 86 million Japanese yen (almost equivalent to $900,000) between 2001 and 2008 from five Japanese funding agencies for reforestation and social development projects.  "Global" therefore is a popular word in the village; 3) The worldly well-known film director Kidlat Tahimic was so deeply inspired by Lopez Nauyac's words and deeds in this movement who is the founder and the leader of IGFMC that he produced several documentary films which are shown international film festivals.
Hapao is located at the center of steep mountain range where main-force units of the Japanese army occupying the Philippines under General Tomoyuki Yamashita with tens of thousands soldiers retreated to entrench themselves for three months before surrender.  The villagers still clearly remember suffering caused by bombing, food shortage and epidemic such as dysentery, and Lopes insists the world peace was born at Hapao and surrounding areas when General Yamashita finally gave up fighting to surrender ; 5) Hapao is one of four clusters of rice terraces in Ifugao which were inscribed on the UNESCO World Heritage List in 1995 as living cultural heritage.
Seeing globalization processes at a grassroots level in Hapao village helps the author to observe that the arena for contestation and cooperation with agents of global powers has shifted from the village and surrounding areas to world-wide working places.  In these places, individuals manage face-to-face interaction with non-Ifugaos for the sake of a better life for her/himself and her/his families.  The money and experiences they gained overseas are brought back to the village bringing about a reawakening of self consciousness of being Ifugao with long lasting cultural heritage, and the revitalization of traditional rituals (mainly concerning ancestral worship and community fiesta, not so much in agricultural ones). This all points to how the Ifugao are not just passive participants in global process, but very much active agents who have shaped, their past, present and future. Their ongoing interaction allow the author to reflect on the diverse experiences indigenous people have and their signifigance  in ever shifting times.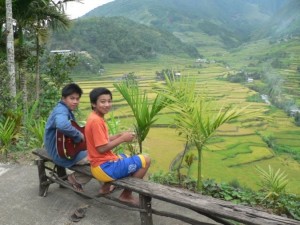 Rice terraces in Hapao in the late afternoon, a boy on the right side holds a cellular phone. (2008/6/6)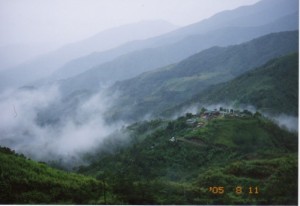 Hungduan Municipal Office in the morning mist.  Tens of thousands of Japanese soldiers entrenched themselves around this place from June to September, 1945, many of whom and also many villagers died of hunger and disease. (2005/8/11)