This post is also available in: Japanese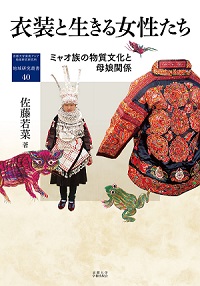 40. Women Living with Their Costumes: The Material Culture and Mother-daughter Relationships of the Miao
SATO, Wakana.
Published in February, 2020.
Kyoto University Press.
Description
The Miao people living in the mountain areas extending from southern China to continental Southeast Asia are known for the stunning ethnic costumes worn by their women. The brilliant decorations and delicate embroidery, which tend to immediately attract attention, represent more than simply aesthetic choice, however. The norms and details of social relationships (especially between mother and daughter) affect the materials and colors, embroidery patterns, and production techniques of the costumes, as well as the act of making, wearing, storage, and transfer. This book proposes that mother-daughter relationships in the patrilineal kinship system of the Miao are constituted through their ethnic costumes. Such connections cannot be taken for granted, especially when daughters move from their natal to marital families. Rather, they are created and reinforced by everyday practices, which are mediated through material objects such as costumes handcrafted by mothers. Focusing on changes taking place in the practices of Miao brides since the 1990s, this ambitious work connects research on material culture with area studies. All pages are in color.