This post is also available in: Japanese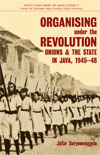 Organising under the Revolution: Unions & the State in Java, 1945-48.
Jafar Suryomenggolo. February, 2013.
description
The years 1945–48 marked the peak of the Indonesian revolution, but they were also formative years for state-labor relationship in modern Indonesia. Drawing on a wide range of historical sources, Jafar Suryomenggolo reconstructs labor's initial drive to form and orient unions during this critical period. The historical narrative captures early unions' nationalist spirit and efforts to defend members' socio-economic interests, and shows the steps taken by the labor movement to maintain its independence and build institutional capacity within the new Indonesia state.
Organising under the Revolution challenges the prevailing assumptions that see labor movements as political arms of the post-colonial state. The author's conclusions provide a comparative lens for the study of labor movements in Southeast Asia, and developing countries in general.