This post is also available in: Japanese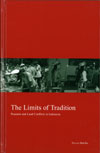 20. The Limits of Tradition: Peasants and Land Conflicts in Indonesia.
Urano, Mariko. February, 2010.
description
The Limits of Tradition explores the discourse of adat (customary or traditional) landownership that played an important role in peasant resistance against Indonesia's state development programs demonstrating its inherent limits as a viable instrument for enhancing the rights of forest-dwelling communities. Urano traces the process in which the government and NGOs developed competing interpretations of discourse and presents detailed fieldwork on how the lower classes appropriated it. This book presents an in-depth study of the role of subaltern elites in creating and organizing counter-hegemonic culture.